Photo Encaustics: Experimenting with Encaustic Photographs
After attending an excellent presentation by Danielle Correia at last year's Encaustic Conference on painting with encaustic on photographs, I have done some experimenting of my own.
Five experiments with Encaustic Photographs are outlined in this post.
1. Photograph Dipped in Wax:
When I dipped a photo into wax the whole image released from the photo paper -not good!
What went well was dipping a photo printed on computer paper. The paper became transparent, which was a beautiful effect on its own. I added just a little bit of dabbing and went over the edge of the photo onto the paper. Here is the result.
2. Matte photo paper, glued on hard board:
I had the same photo printed off on matte photo paper (6×8). This one I glued with matte medium on a piece of hardboard, then added clear medium on top. In the next step I built up texture, especially where the trees were and at the concrete boat launch area at the bottom. The texture was highlighted with a contrasting colour, light for the trees and dark for the foreground. The rocks were painted over with dark wax (my favourite indigo again!), using the tip of the iron. This piece has a totally different feel, but I still like it very much.
I am now preparing to teach a workshop on "Encaustic Painting on Photographs". Here are a few recent experiments in preparation for the class.
3. Photograph Printed on heavy cardstock:
This one was printed with my inkjet printer on heavy cardstock. I started colouring with coloured pencils, then coating with medium, using a brush. After fusing I added more colour with wax this time and finally rubbed the piece with copper magic powder, which sticks nicely to any texture. The original photo was of a couple of birch tree trunks, but it has now a much more abstract feeling.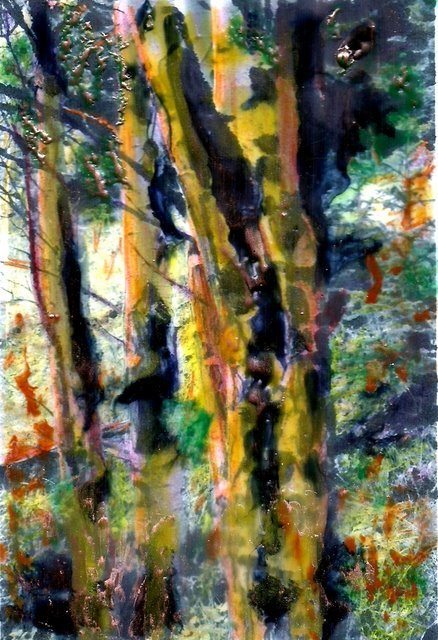 4. Photo Printed on Arches Velin Museum Rag:
This time, the photo was printed, again with my inkjet, on special paper: Arches Velin Museum Rag, which is a beautiful, smooth paper. I cranked up the colours a bit with a photo editor and by accident I printed the image twice, but it really was a nice effect, so I decided to run with it. After printing the photo was dipped in a bath with medium and coloured with Panpastels. The Panpastels started to run and bead up beautifully while I was fusing.
5. Photograph printed on glossy paper:
The last one is a 4×6 photo printed on glossy paper. I sanded the photo a bit, to make it more receptive to the wax, then coated it with medium. I rubbed several colours of alcohol ink over it, blending and lifting here and there to bring out the big flower to the right and the smaller one on the left. In the lower left corner I added more medium and pressed some netting in the soft wax. After removing the netting the texture was enhanced with more alcohol ink. The dark shading on the right is done with Panpastels.
How have you experimented with photographs in your encaustic artwork?