This recipe to make your own paste for collage comes from master mixed-media art instructor Christina Lovisa. Christina's homemade YES! paste alternative works really well under encaustic. This adhesive is especially handy if you want to work large as you can mix up as much as 4 Litres of Glue!!
Supplies To make paste for collage
Great Art Wallpaper Adhesive made in Germany – buy from Upwards Art Studio or from Amazon.com
Container with a measure on the side or a measuring cup
Glue – choose a glue that is non-toxic. You can use mod podge, white school glue, or white wood glue.
Water
Weigh scale
Something to stir with – a whisk or immersion blender
Glass jar to store the glue in
Great Art Wallpaper Adhesive Paste + Glue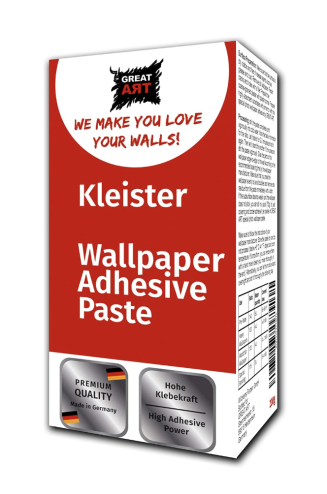 Great Art Adhesive is a non-toxic, non-acrylic, cellulose-based wallpaper adhesive made in Germany. Cellulose-based adhesives can be reactivated with water so the wallpaper can be removed later. But simply adding a small amount of glue to the wallpaper paste, will create a more permanent bond.
Video: How to Make Your Own paste for collage

Mixing table
Christina isn't one to measure but I am, so I use a scale and measuring spoons. Feel free to eyeball it and simply add a gloop of glue as Christina did. I think that Christina's gloop looks like 1/4 cup.
| Water | Wall Paper Paste | Glue |
| --- | --- | --- |
| 4 Litre | 1 Box – 200 Grams | 1/2 cup |
| 2 Litre | 100 Grams | 1/4 cup |
| 1 Litre | 50 Grams | 1/8 cup that's 3 tbsp |
| 500 ML | 25 Grams | 1 1/2 tbsp |
| 250 ML | 12.5 Grams | 4 teaspoons |
Mixing Instructions
Combine the water and wallpaper paste
Stir vigorously for 2-3 minutes
Let it sit for 2-3 minutes to thicken
Stir the paste again
Let it sit for 15 minutes to thicken
Add glue & stir it in so there are no lumps
Transfer the adhesive into glass jars for storage
Wash your mixing containers and measuring spoons
Thanks, Christina for giving me permission to share your recipe here.
Of course, there are other adhesives that will work well with encaustic collage. Check out Adhesives for Encaustic Artwork – Monotypes & Collage by Victoria Foster Harrison