Originally published July 12, 2019
I've noticed a few people asking in Facebook groups for advice to organize their encaustic art studio. My art studio is the most organized space in my house. Perhaps this is because when I'm stuck in the painting process I start tidying. Here are some tips for how I have organized my art studio workspace.
Tips for organizing your art studio
Here's an amazon shopping list for products mentioned in this post. Your Amazon purchases help support this site. Thanks!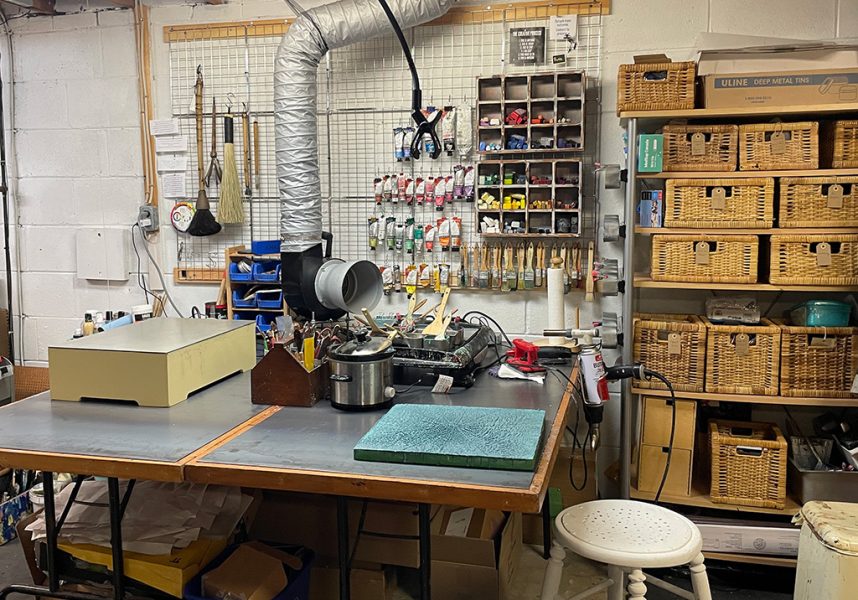 Shelf and Baskets:
I have a tall second-hand shelf to the right of where I work (I'm right-handed). The shelf is filled with baskets that I have picked up at Value Village for $2 – $3 apiece. I tied card labels onto the baskets.
Metal Grid:
Along one wall above my work table is a metal grid affixed to the wall. I used a wire cube set that I was about to donate to a charity shop and I bought a second-hand one from Facebook Marketplace. You can buy a set on Amazon. S-hooks and magnets are used to hang things from the grid. Magnets can hold inspirational quotes and works on paper, and S-hooks can suspend finished paintings and tools.
Wooden Cubies:
I bought these on Amazon. They are perfect for holding encaustic paints. I hung them from my grid with S-hooks.
Pegboard Hooks:
My brushes hang below the cubbies on a zip-tied pegboard multi-hook.
Magnetic Knife Strips:
Encaustic paints in tins can be hung vertically on magnetic knife strips. Many artists leave the corresponding brush in the wax as it cools and will hang the tin up, brush and all. I have mine zip-tied to the side of my shelving unit.
Tube Paints & Brushes:
If you use oil paints, use binder clips and S-hooks to hang tube paint on the metal grid. I use such a small amount of paint each time that I will only buy small tubes from now on.
Bike Water Bottle Holder:
Attaching a water bottle holder to the side of my table provides a stable handy place to put my torch when not in use. I store it away at the end of the day in a fire-safe cabinet.
Tool Caddy:
Old tea tins in wooden toolboxes make a perfect tool caddy. I use these to organize my scraping tools, mark-making tools and paint brushes (not used for wax). I can pick up a caddy and easily move all my tools to wherever I'm working in the studio.
Rolling Metal Cart:
I also picked up one of the ubiquitous 3-tier metal rolling carts that no art studio is complete without. At the moment, it's home to my coloured chalk paints.
Power Bar:
I have a PowerBar with individual switches. Masking tape labels help me know which tool I'm turning on.
Paper Station:
I have a separate area for working with paper. This is a no-wax zone so I always have a clean cutting surface. I have a large self-healing cutting pad on a table and a paper slicer. I store collage materials in plastic project boxes sorted by colour.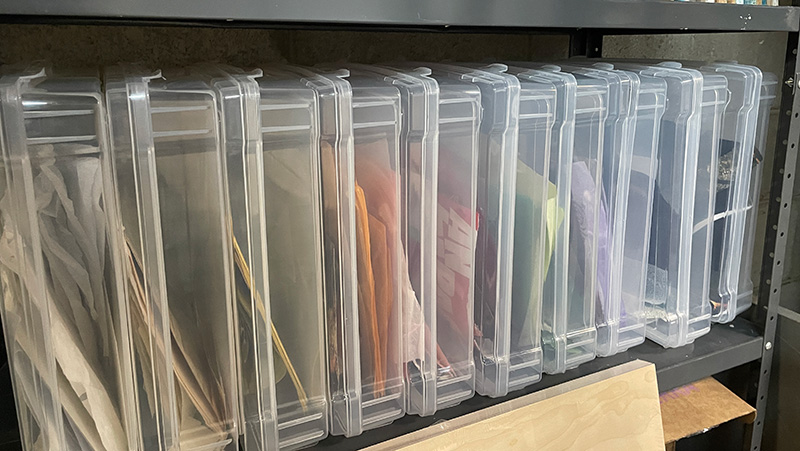 Binders:
I've previously talked about using binders and binder sheets for organizing dried flowers for collage. They work well to store stencils too.
How do you organize your art studio?
I'm sure there is always room for improvement. Please add a comment below to share your best tips for organizing your art studio supplies and tools.