Is encaustic toxic?
With adequate ventilation and a working temperature that is under 200°F, encaustic is a safe medium to work with. It is important to use a thermometer to keep a check on your temperature. Encaustic fumes, when released at a safe temperature, are not considered dangerous. Yet, all wax mediums, when heated, do release fumes.
All waxes, when they are melted– whether as candles, batik, or encaustic—release a mixture of invisible fume (in the form of tiny particles) and gases, such as acrolien and aldehydes. [source]
Solvents should not be used in encaustic painting. All solvents are toxic and should never be heated. Cold wax medium is not encaustic and should never be heated.
Encaustic artists will use other materials in the studio including oil paints, pastels, inks, glues and pigments. It is wise to read the material safety data sheet (MSDS) for all of your materials to ensure safe handling.
Why ventilate your encaustic studio? Is wearing a respirator recommended?
R&F Handmade Paints stresses the importance of ventilation even if you aren't experiencing any symptoms.
It is important to work in a well-ventilated area at all times, regardless of how long you spend in the studio or how sensitive you are to the emissions initially. Respirators are not a good substitute for ventilation because they are not approved for acrolein and there is no single cartridge that would filter out all the contaminants.
In addition to good ventilation, a NIOSH-approved particulate respirator is a good thing to have on hand in your studio when working with particles that you don't want to inhale.
Physical reactions to unvented encaustic emissions
Some individuals may develop headaches or other physical symptoms from unvented encaustic emissions.
I am sensitive to scents from perfumes, cleaning supplies and solvents, but I don't react to beeswax-based encaustic. I've always been very careful to keep my griddle temperature below 180°F. I love the smell of beeswax so I was surprised when members of my family complained about my unventilated encaustic. I now have proper ventilation.
On two occasions I have experienced reactions during encaustic workshops. The first time was when I worked with a dry pigment and carelessly allow the pigment to become airborne. The second time was when I was exposed to microcrystalline wax, the studio had ventilation but I still experienced a headache and catch in my throat. I walked away from the studio and felt much better in a short time.
Encaustic Studio Ventilation Solutions
This PDF from R&F is a must-read resource when analyzing your encaustic ventilation needs.
When considering ventilation for your studio it is important to not only vent the fumes out but to also bring fresh air in. When I am working in my studio I open a window behind me to replace the air that is being vented out.
For my home studio, the venting solution I chose was the Vent-A-Fume. The Vent-A-Fume Fume Extractor is a complete ventilation system designed for encaustic painting. It is a tabletop model that sits beside the encaustic palette. I am very happy with my choice. The Vent-A-Fume is so powerful that I have to use a travel mug for my tea or it goes cold too quickly!
Now I can make my own encaustic medium and paint in my studio without health concerns.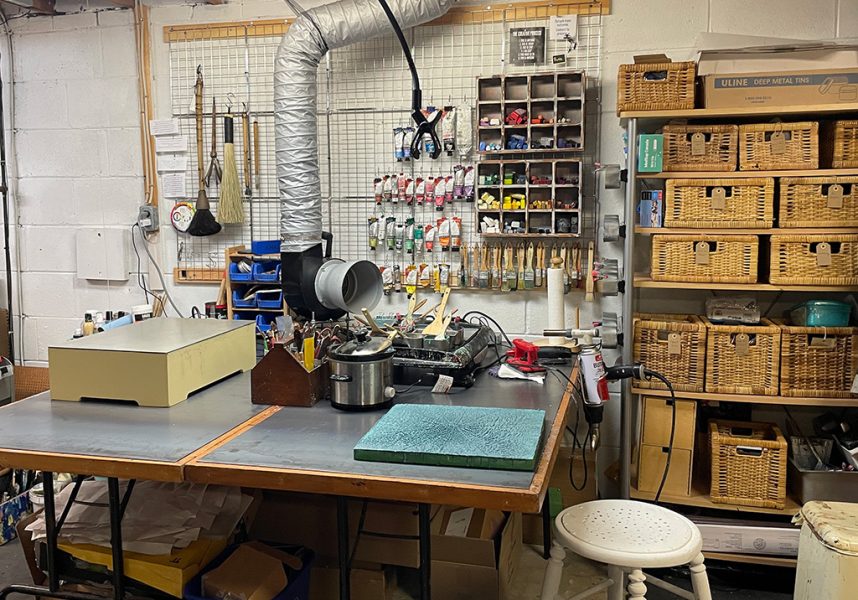 Please add your comments below about your encaustic studio ventilation solutions.